Laud Herb in English
English-speaking LH analyst
Команда форума
Сообщения

11.375
Реакции

5
...Premium Quality Since 1968. Standardized Extract. Freshcare System. Power Herbs....
​
Full product title:
Natures Herbs, Gingko-Power, 50 Veggie Caps
Brand:
Natures Herbs
iHerb product id:
56410
Laud Herb Tag:
56410



Price:
$13.44
Extra Discount:
Yes
Free shipping:
Yes, to 150 countries
(for orders over $40)
iHerb customers rating:
4.00
iHerb customer reviews:
1
Best choice?
May be...
(see
reviews
)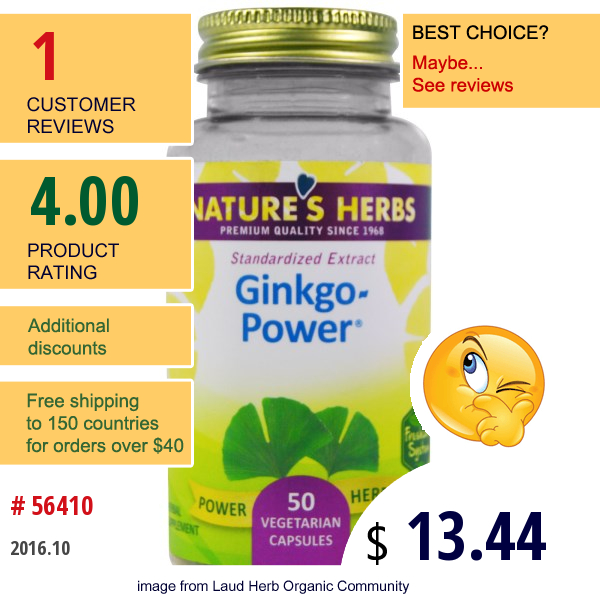 Description:
Premium Quality Since 1968.
Standardized Extract.
Freshcare System.
Power Herbs.
Herbal Supplement.
Our FreshCare System cares for both you and the planet. Capsule freshness is maximized without preservatives through thoughtful formulation and environmentally sensitive packaging. Our lightweight bottles are efficient to transport and use Post-Consumer Resins, which are fully recyclable, including the metal lids. Every bottle has a UV barrier to protect the capsules from exposure to light, while still allowing you to see exactly what is inside.
Power Herbs, exclusively from Nature's Herbs, contain standardized extracts of naturally occurring...
read more
.
Categories:
Herbs
,
Ginkgo Biloba
,
Ginkgo Formulas
Последнее редактирование модератором: