Laud Herb in English
English-speaking LH analyst
Команда форума
Сообщения

11.375
Реакции

5
...Since 1947. Antioxidant Protection. Gluten, Wheat & Dairy Free. Dietary Supplement...
​
Full product title:
Solgar, Natural Advanced Carotenoid Complex, 60 Softgels
Brand:
Solgar
iHerb product id:
12115
Laud Herb Tag:
12115



Price:
$19.20
Extra Discount:
Yes
Free shipping:
Yes, to 150 countries
(for orders over $40)
iHerb customers rating:
5.00
iHerb customer reviews:
4
Best choice?
May be...
(see
reviews
)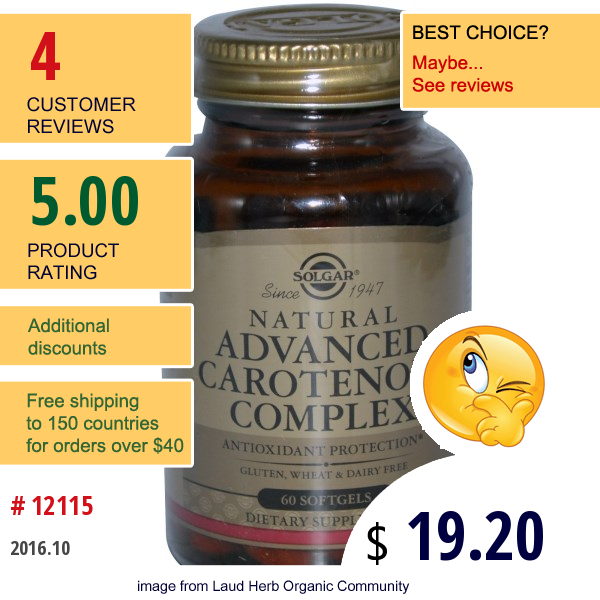 Description:
Since 1947.
Antioxidant Protection.
Gluten, Wheat & Dairy Free.
Dietary Supplement.
Carotenoids are powerful antioxidants. Scientific research documents the ability of plant-based, antioxidant carotenoids to fight free radicals, which can contribute to oxidative stress and the premature aging of cells. That is why it is important to get a good balance of mixed carotenoids every day. The broad-spectrum carotenoid formulation...
read more
.
Categories:
Solgar
,
Carotenoids
,
Mixed Carotenoid Complex
Последнее редактирование модератором: