Laud Herb in English
English-speaking LH analyst
Команда форума
Сообщения

11.375
Реакции

5
...Real Live Food. Super Cookies. 100% Organic. USDA Organic. Gluten Free. Wheat Free...
​
Full product title:
Go Raw, Organic Super Cookies, Carrot Cake, 3 Oz (85 G)
Brand:
Go Raw
iHerb product id:
36413
Laud Herb Tag:
36413



Price:
$4.49
Extra Discount:
Yes
Free shipping:
Yes, to 150 countries
iHerb customers rating:
4.4
iHerb customer reviews:
26
Best choice?
May be...
(see
reviews
)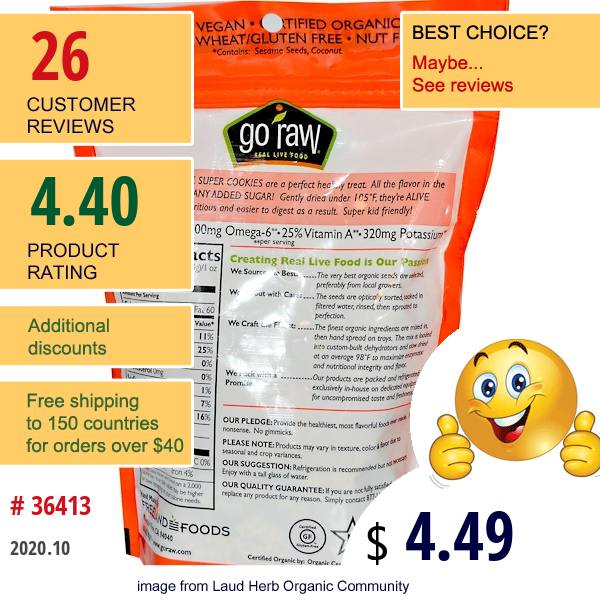 Description:
Real Live Food.
Super Cookies.
100% Organic.
USDA Organic.
Gluten Free.
Wheat Free.
Nut Free*.
Raw.
Vegan.
Certified Wheat.
Kosher.
Certified Gluten Free.
*Contains: Sesame seeds, coconut.
Why Raw?.
All content has been dried under 105°F and all seeds have been sprouted, releasing enzymes which made them healthier and easier to digest Sprouted seeds are among the most nutritionally dense foods on the planet.
All live (dried under 105°F).
All seeds sprouted.
No GMOs.
No trans fats.
No cholesterol.
All hand made.
All raw kitchen.
All family owned.
These Carrot...
read more
.
Categories:
Go Raw