Laud Herb in English
English-speaking LH analyst
Команда форума
Сообщения

11.375
Реакции

5
...Non-GMO. High-Absorption. Soy-Free. Albion Minerals. TRAACS. Dietary Supplement...
​
Full product title:
Healthy Origins, Chelated Multi Mineral, Iron Free, 240 Veggie Caps
Brand:
Healthy Origins
iHerb product id:
73144
Laud Herb Tag:
73144



Price:
$23.98
Extra Discount:
Yes
Free shipping:
Yes, to 150 countries
iHerb customers rating:
4.5
iHerb customer reviews:
31
Best choice?
May be...
(see
reviews
)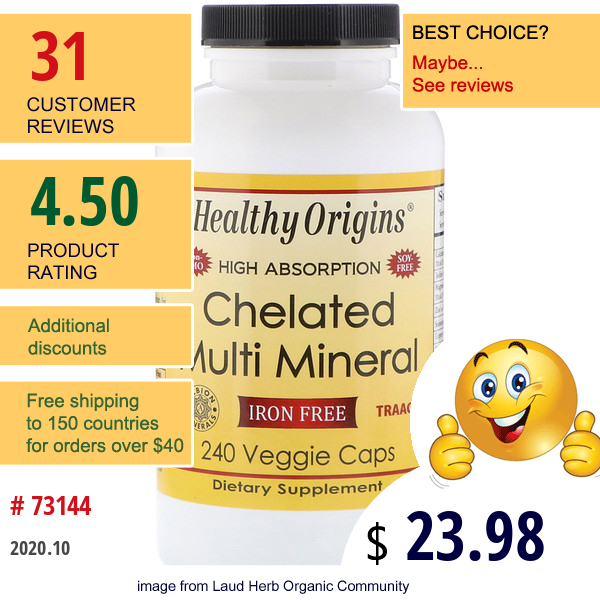 Description:
Non-GMO.
High-Absorption.
Soy-Free.
Albion Minerals.
TRAACS.
Dietary Supplement.
Healthy Origins Chelated Multi Mineral is a broad spectrum mineral product which uses Albion chelation technology to enhance the bioavailability of minerals in the digestive tract. Healthy Origins is proud to partner with Albion Laboratories, -...
read more
.