Laud Herb in English
English-speaking LH analyst
Команда форума
Сообщения

11.375
Реакции

5
...Estd 1989. Pathway to a Better Life. Dietary Supplement 30 Day Supply Platinum...
​
Full product title:
Barlean'S, Stomach Repair, Vanilla Chai , 6.35 Oz (180 G)
Brand:
Barlean'S
iHerb product id:
73683
Laud Herb Tag:
73683



Price:
$36.59
Extra Discount:
Yes
Free shipping:
Yes, to 150 countries
iHerb customers rating:
3.6
iHerb customer reviews:
27
Best choice?
May be...
(see
reviews
)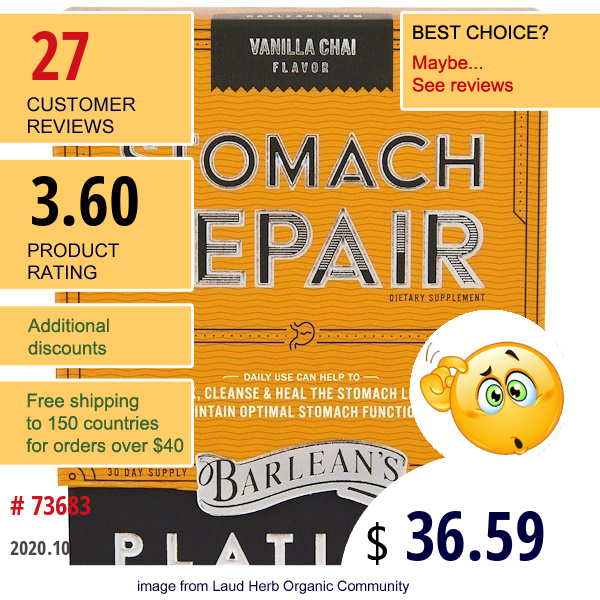 Description:
Estd 1989.
Pathway to a Better Life.
Dietary Supplement.
30 Day Supply.
Platinum.
From Our Family to Yours.
Non-GMO.
Sugar-Free.
Gluten-Free.
Daily Use Can Help To:
Detox, Cleanse & Heal the Stomach Lining.
Maintain Optimal Stomach Function.
Barlean's Stomach Repair is formulated to help calm the symptoms upset, including heartburn, indigestion, ulcers and reflux. Our all-natural combination of botanicals and nutrients is designed to thicken the stomach's protective lining, repair irritated or unhealthy stomach tissue and eliminate harmful bacteria, like H. Pylori, that can lead to many common stomach ailments.
The right ingredients in the right amounts.
We...
read more
.
Categories:
Digestive System
,
Detox & Cleanse Formulas
,
Intestinal Formulas