Laud Herb in English
English-speaking LH analyst
Команда форума
Сообщения

11.375
Реакции

5
...Oh so Soothing. 100% Vegan. Paraben Free. Probiotically Enhanced. Pure and Natural...
​
Full product title:
Devita, Oh My Devita Baby, Baby Balm, Butter Cheeks, .63 Oz (18.63 Ml)
Brand:
Devita
iHerb product id:
61704
Laud Herb Tag:
61704



Price:
$7.66
Extra Discount:
Yes
Free shipping:
Yes, to 150 countries
iHerb customers rating:
4.1
iHerb customer reviews:
7
Best choice?
May be...
(see
reviews
)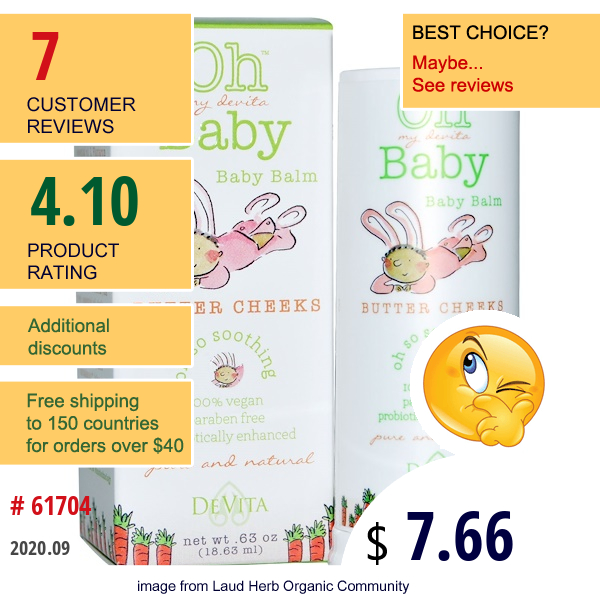 Description:
Oh so Soothing.
100% Vegan.
Paraben Free.
Probiotically Enhanced.
Pure and Natural.
Non Irritating.
Clinically Tested.
Allergy Tested.
Oh my devita Baby.
Your baby is the most precious thing in the world to you… that's why we created oh my devita baby. Made with tender loving care by people who understand the nature of vegan skincare. There is nothing in our line to give you a moment's concern. Free from chemicals, additives, animal products or by-products and artificial fragrances - just pure, natural ingredients that care for your baby's delicate skin.
Butter Cheeks: Baby Balm.
For times when diapers cause rubbing and chapping in those super...
read more
.
Categories:
Devita
,
Baby & Kids
,
Diapering
,
Diaper Rash Treatments
,
Baby Lotion & Cream