Laud Herb in English
English-speaking LH analyst
Команда форума
Сообщения

11.375
Реакции

5
...47% Cocoa. Enlightened Indulgence. Toasty Buttery Crunch. USDA Organic. Fair Trade Certified Ingredients...
​
Full product title:
Alter Eco, Organic Chocolate Bar, Dark Salted Coconut Toffee, 47% Cocoa, 2.82 Oz (80 G)
Brand:
Alter Eco
iHerb product id:
46391
Laud Herb Tag:
46391



Price:
$2.85
Extra Discount:
Yes
Free shipping:
Yes, to 150 countries
iHerb customers rating:
4.3
iHerb customer reviews:
2461
Best choice?
May be...
(see
reviews
)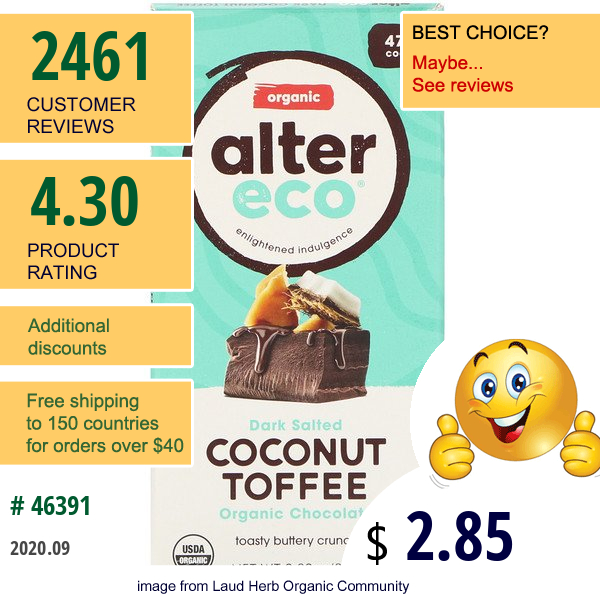 Description:
47% Cocoa.
Enlightened Indulgence.
Toasty Buttery Crunch.
USDA Organic.
Fair Trade Certified Ingredients.
Non-GMO Project Verified.
Certified B Corporation.
Certified Gluten Free.
Certified Organic by: bio.inspecta AG and QAI.
Salty-Sweet Perfection.
Toffee lovers, unite! This beloved traditional confection gets the gourmet Fair Trade treatment. Roasty-toasty Sri Lankan coconut and caramelized Paraguayan cane sugar are sprinkled with coarse French sea salt to form a unique and supremely satisfying crunch. Dunked in our velvety Peruvian dark chocolate, this lush, tropical toffee delivers buttery, salty sweetness in every bite.
Indulgence, enlightened.
Chocolate is good for the...
read more
.
Categories:
Alter Eco
,
Grocery
,
Chocolate & Candy
,
Chocolate
,
Heat Sensitive Products
,
Бакалейные Товары
,
Шоколад И Сладости
,
Шоколад
,
식료품
,
초콜릿 & 캔디
,
초콜릿
,
온도에 민감한 제품