Laud Herb in English
English-speaking LH analyst
Команда форума
Сообщения

11.375
Реакции

5
...Four Month Supply. Daily Maintenance. Heart & Brain Health. 850 mg Omega-3s....
​
Full product title:
Minami Nutrition, Supercritical, Omega-3 Fish Oil, 850 Mg, Orange Flavor, 120 Softgels Each
Brand:
Minami Nutrition
iHerb product id:
22811
Laud Herb Tag:
22811



Price:
$57.39
Extra Discount:
Yes
Free shipping:
Yes, to 150 countries
iHerb customers rating:
4.7
iHerb customer reviews:
145
Best choice?
Absolutely!!!
(see
reviews
)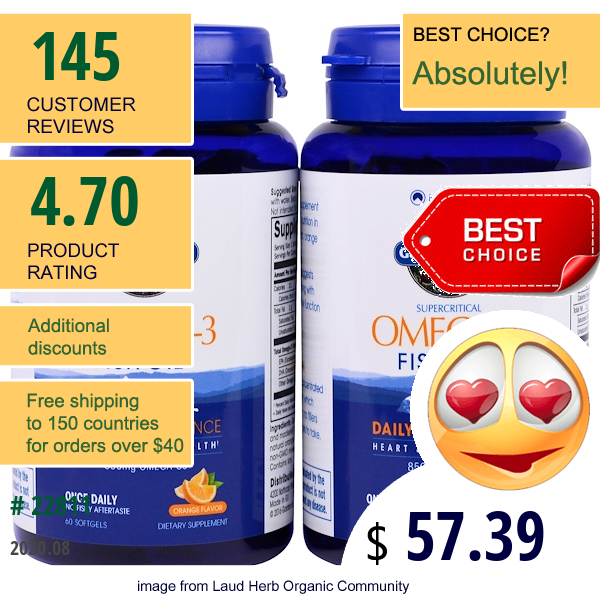 Description:
Four Month Supply.
Daily Maintenance.
Heart & Brain Health.
850 mg Omega-3s.
Once Daily.
No Fishy Aftertaste.
Dietary Supplement.
Gluten Free.
Dairy Free.
Minami Omega-3 is a premium supplement that delivers 850 mg of Omega-3 nutrition in one convenient softgel with a clean, orange flavor and no fishy aftertaste.
Advanced Omega-3 research suggests a high concentration of EPA, along with DHA, can support mood, cognitive function and cardiovascular health.
Super Concentrated Omega-3.
Minami offers one of the highest concentrated Omega-3 fish oils on the market, which means more Omega-3 nutrition, no fillers or saturated fats and fewer softgels to take.
Quality...
read more
.
Categories:
Best Choice
,
Minami Nutrition
,
Fish Oil & Omegas (Epa Dha)