Laud Herb in English
English-speaking LH analyst
Команда форума
Сообщения

11.375
Реакции

5
...New Look Same Great Taste. Live Sweetly. Good Source of Calcium & Iron. USDA Organic...
​
Full product title:
Wholesome, Organic Molasses, Unsulphured, 16 Fl Oz (472 Ml)
Brand:
Wholesome
iHerb product id:
34611
Laud Herb Tag:
34611



Price:
$8.29
Extra Discount:
Yes
Free shipping:
Yes, to 150 countries
iHerb customers rating:
4.2
iHerb customer reviews:
404
Best choice?
May be...
(see
reviews
)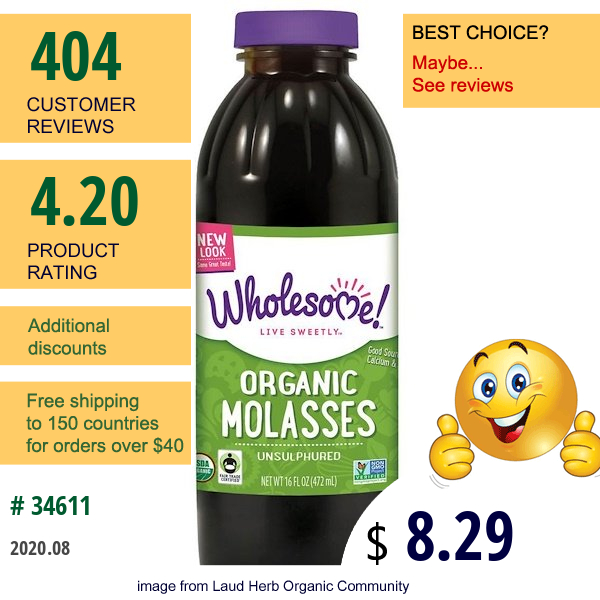 Description:
New Look.
Same Great Taste.
Live Sweetly.
Good Source of Calcium & Iron.
USDA Organic.
Fair Trade Certified.
Non GMO Project Verified.
Gluten Free.
Naturally Vegan.
Kosher Certified.
Certified Organic by: Quality Assurance International.
Life is Sweeter when it's Wholesome!
Love, kindness and joy may not appear on our ingredient label, but they're in this package just the same. Each time you choose wholesome! products, someone's life get a little bit sweeter.
We pour our whole heart into all we do.
Our Organic Molasses is made from pure organic sugar cane. It's a rich, full-bodied blackstrap molasses rich in...
read more
.
Categories:
Wholesome Sweeteners
,
Grocery
,
Honey & Sweeteners
,
Molasses
,
Бакалейные Товары
,
Мед И Подсластители
,
Меласса