Laud Herb in English
English-speaking LH analyst
Команда форума
Сообщения

11.375
Реакции

5
...Dietary Supplement. Heart Health. Antioxidant. Optimal Wellness. Gluten-Free....
​
Full product title:
Carlson Labs, E-Gems, 268 Mg (400 Iu), 2 Bottles, 90 Softgels + 44 Soft Gels
Brand:
Carlson Labs
iHerb product id:
2790
Laud Herb Tag:
2790



Price:
$21.20
Extra Discount:
Yes
Free shipping:
Yes, to 150 countries
iHerb customers rating:
4.7
iHerb customer reviews:
19
Best choice?
May be...
(see
reviews
)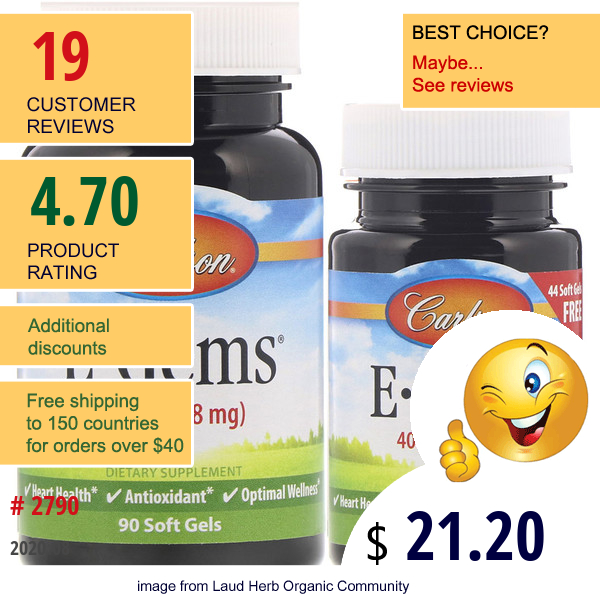 Description:
Dietary Supplement.
Heart Health.
Antioxidant.
Optimal Wellness.
Gluten-Free.
No Artificial Preservatives.
Potency & Quality Guaranteed.
An FDA Regulated Facility.
E-Gems provide 400 IU (268 mg) of natural-source vitamin E per soft gel. Natural-source vitamin E is a powerful antioxidant that promotes...
read more
.
Categories:
Carlson Labs
,
Vitamins
,
Vitamin E
,
Пищевые Добавки
,
Витамины
,
Витамин Е
,
보충제
,
비타민
,
비타민 E