Laud Herb in English
English-speaking LH analyst
Команда форума
Сообщения

11.375
Реакции

5
...High Performance Whey Protein Bar. 32 g Protein. Naturally Flavored. 3 g Sugar....
​
Full product title:
Detour, Lean Muscle Bars, Cookie Dough Caramel Crisp, 12 Bars, 3.2 Oz (90 G) Each
Brand:
Detour
iHerb product id:
56308
Laud Herb Tag:
56308



Price:
$34.45
Extra Discount:
Yes
Free shipping:
Yes, to 150 countries
iHerb customers rating:
3.9
iHerb customer reviews:
56
Best choice?
May be...
(see
reviews
)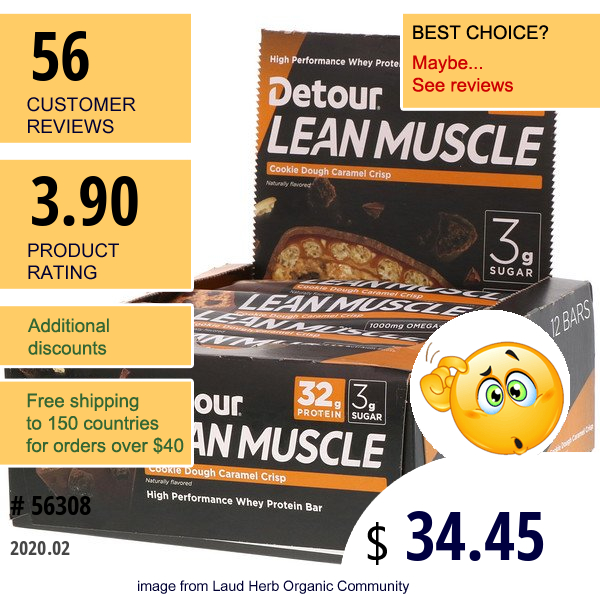 Description:
High Performance Whey Protein Bar.
32 g Protein.
Naturally Flavored.
3 g Sugar.
1000 mg Omega-3.
21 Vitamins + Minerals.
The Right Protein.
Detour Lean Muscle is a first if its kind max protein bar. Loaded with high performance whey protein, Omega-3s, 21 vitamins and minerals and only 3 g of sugar, Detour Lean Muscle is the powerful protein boost you need.
The high performance whey protein bar, Detour Lean Muscle puts the nutrition secrets of elite athletes in your hands.
Powerful Protein Boost.
- Detour's Quadra Whey Protein Blend powers your body with a full spectrum protein for optimum results.
Performance Plus.
- Optimized with Optiflax, an exclusive blend of Omega-3s,...
read more
.
Categories:
Detour
,
Sports Nutrition
,
Protein Bars
,
Whey Protein Bars