Laud Herb in English
English-speaking LH analyst
Команда форума
Сообщения

11.375
Реакции

5
...Dairy Free. Low Glycemic. Taste the Love!. USDA Organic. Hand Crafted with Love...
​
Full product title:
Sejoyia, Coco-Roons, Vanilla Maple, 8 Count, 6 Oz (170 G)
Brand:
Sejoyia
iHerb product id:
46091
Laud Herb Tag:
46091



Price:
$7.59
Extra Discount:
Yes
Free shipping:
Yes, to 150 countries
iHerb customers rating:
3.7
iHerb customer reviews:
26
Best choice?
May be...
(see
reviews
)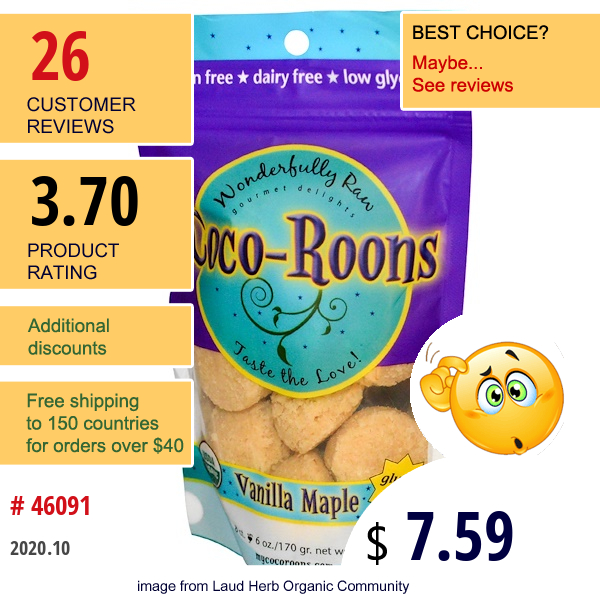 Description:
Dairy Free.
Low Glycemic.
Taste the Love!
USDA Organic.
Hand Crafted with Love.
Certified Gluten-Free.
Vegan Verified.
Kosher.
Naturally Packed with Goodness.That's It!!!
Starting out with a passion for pure ingredients and a healthy way of living, we sourced our ingredients from around the world supporting the wild, organic and sustainable movement. We have created a wonderful indulgence that is guilt free and tastes like it shouldn't be!!!!
We chose to sweeten our Coco-Roons with the finest organic maple syrup from our friends in Vermont for its health-enhancing vitamin and mineral qualities and let's not forget the fabulous flavor!
Good...
read more
.
Categories:
Sejoyia